Co-op, Hybrid, or Microschool – Which Is It?
As we continue to see an emergence of unconventional education models, communicating what aspects are similar or different is extremely helpful in ensuring families know what they're looking for and entrepreneurs know what they're aiming to provide.
Traditional Homeschool Co-Op
When I first began homeschooling in 2007, I joined our local co-op. After a while, I began teaching, and soon enough, I was on the planning committee. I was learning that every family was looking for something slightly different than the next. Some families were only looking for community and supplemental enrichment offerings, while others were looking to outsource instruction to help them with core subjects that they were struggling with at home. I walked away convinced that trying to navigate compromise with freedom-loving homeschoolers wasn't for the faint of heart!

In my opinion, a marker of a traditional homeschool cooperative is that all givers are receivers and all receivers are givers in that they aren't typically outsourcing instruction or compensating workers. Sure there are some exceptions, but most cooperatives are either offering enrichment or academic support without considerable monetary exchange.
Hybrid Program
Within a few years, I was leading a licensed Classical Conversations program. My hope was that the structure would help our family adapt to a new normal after our 3rd child was born. Unfortunately, it did the opposite. Strict adherence to arbitrary practices left me still looking for a better option.

So when my family joined dozens of others to launch Appalachian Classical Academy in 2016, we had a new objective: do less, do it well.

I can wholeheartedly say we embraced that, and for the last 7 years, with the exception of 21-22, thank you, Covid, we served homeschooling families with classes in Latin, logic, literature, science, and more.

In my opinion, a marker of a hybrid program is that not all givers are receivers and not all receivers are givers in that participants are more willing to hire or outsource instruction and compensate workers. In addition to that, they may all be following along on the same curriculum planned out by the leaders of the program, even on their homeschool days.
Hybrid School
When I began coaching other program leaders in 2018, I noticed that their pedagogies, values, cultures, and day-to-day priorities varied pretty widely. Some programs were meeting 3 to 4 days every week and parents were doing less and less.

These were less like a program and more like a school, an organized body with less expectation of the parent.

It was then that I came up with a chart that demonstrated what I have found to be the most helpful distinction in communicating what makes a co-op a co-op, a hybrid a hybrid, and a microschool a microschool: the distribution of responsibility as it pertains to academic instruction.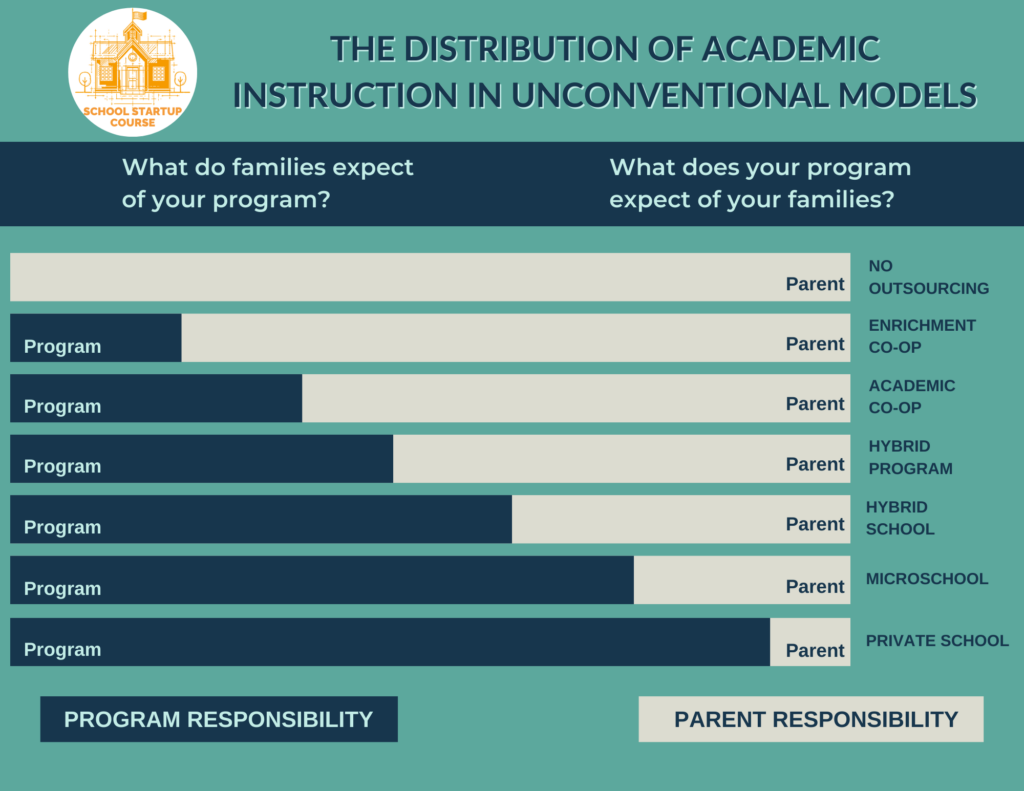 Microschool
I began hearing this term in early 2020. It wasn't so much from homeschooling parents looking for more from a program, at least not in my initial experience, it was teachers and/or churches looking to provide a step down from public or private schools that weren't able to customize options. Obviously the pandemic had its impact, but even more than that, these new leaders were communicating a desire to increase engagement from parents for more of a partnership for the child's educational needs.

For the broader audience of parents who are looking for a reasonable alternative that doesn't require them to completely overhaul their lifestyle, microschools are the answer.
Many of these new founders began reaching out for guidance from me on how to work with licensed professionals and government agencies to ensure they were offering a sustainable learning environment.
Next Steps

One woman's passion for policy, research, and storytelling is providing the nation with amazing introductions into this novel world, and a number of support networks have emerged to help these founders explore options for this new model.

I hope this list, though not exhaustive, will serve you well as you begin to consider if microschooling is for you:

Microschool Solutions
National Microschooling Center

Still yet, a common concern from these founders is a lack of expert, step-by-step support for navigating complex regulatory barriers. It quickly can become a scavenger hunt to find out what you CAN do and what you MUST do.

That's why I'm thrilled to be working on a DIY course for founders of co-ops, hybrids, and microschools that is scheduled to launch this fall. The BLOCK framework – Business, Liability, Operations, Communications, and K-12 Policy – will provide all founders the tools they need to make their vision a reality without losing their minds. To stay in the loop, you can join me at SchoolStartup: Co-op, Hybrid, Microschool Founders.
Need support sooner than later? Schedule a complementary call!