School Choice Navigation Services: Who? What? How?
For decades parents in WV had 3 basic options for schooling: in-person public, private, and home. In 2017, virtual public school was added for 6th through 12th grades. Leading up to the 22-23 academic year, parents could choose from in-person public school, virtual public school, in-person charters (in some areas), virtual charters, private schools, homeschool, learning pods, microschools, or the state's ESA, Hope Scholarship, which has a couple different ways it can be used.

The expansion of options ushered in incredible opportunity.

And along with it came confusion and overwhelm.

The grassroots organization I run, West Virginia Families United for Education, the WV FUE, has spent nearly 2 years offering navigation services to address that confusion and overwhelm. We recently were able to organize and define them into 3 categories. This approach has come under scrutiny for attempting to do too much, but that scrutiny isn't coming from the thousands of families and hundreds of providers who have benefited from our work. The users want a local expert, and that is what we've provided for them.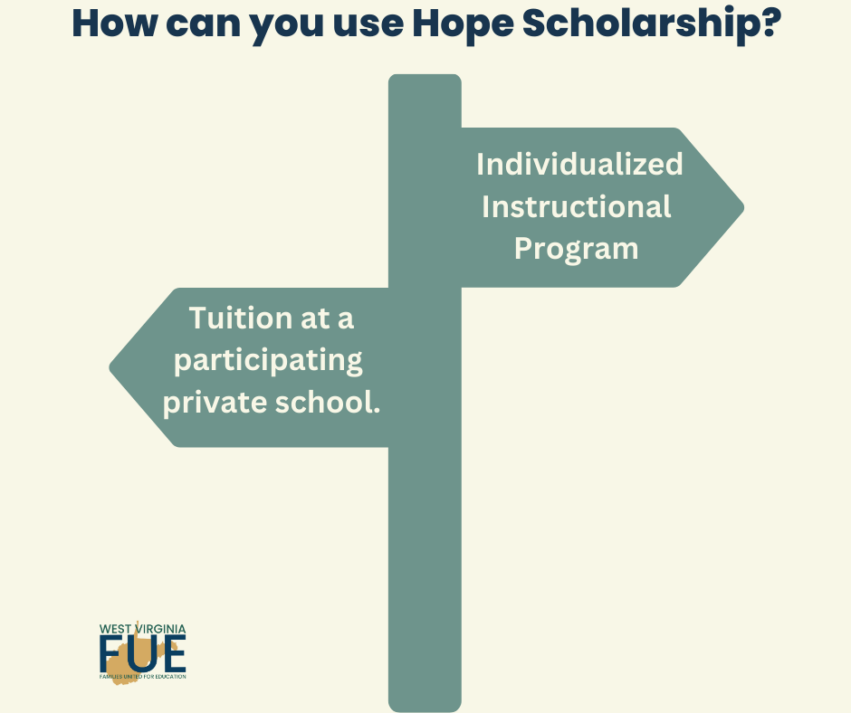 School Options Navigation Services

I believe every parent deserves to know what their K-12 options are, and I believe they should not have to pay someone to find out. Compulsory education law can be confusing, but every child, once they reach compulsory age, is either satisfying compulsory attendance or is satisfying criteria in order to be exempt from compulsory attendance.

One way we support these families is through our partnership with National School Choice Week. Last year we held WV's largest school fair, reaching over 500 attendees and networking with 50 exhibitors. We have big plans for 2024 and believe families throughout WV will begin planning each year to attend our events as part of their preparation for the upcoming school year.
Another outreach project we've done is our K-12 School Options Workshops. I created this chart in January of 2022 when I began traveling the state holding close to 40 of these valuable in-person events. The "choose your journey" approach gave a framework to the foreign concepts of choice, helping parents become familiar with their school options.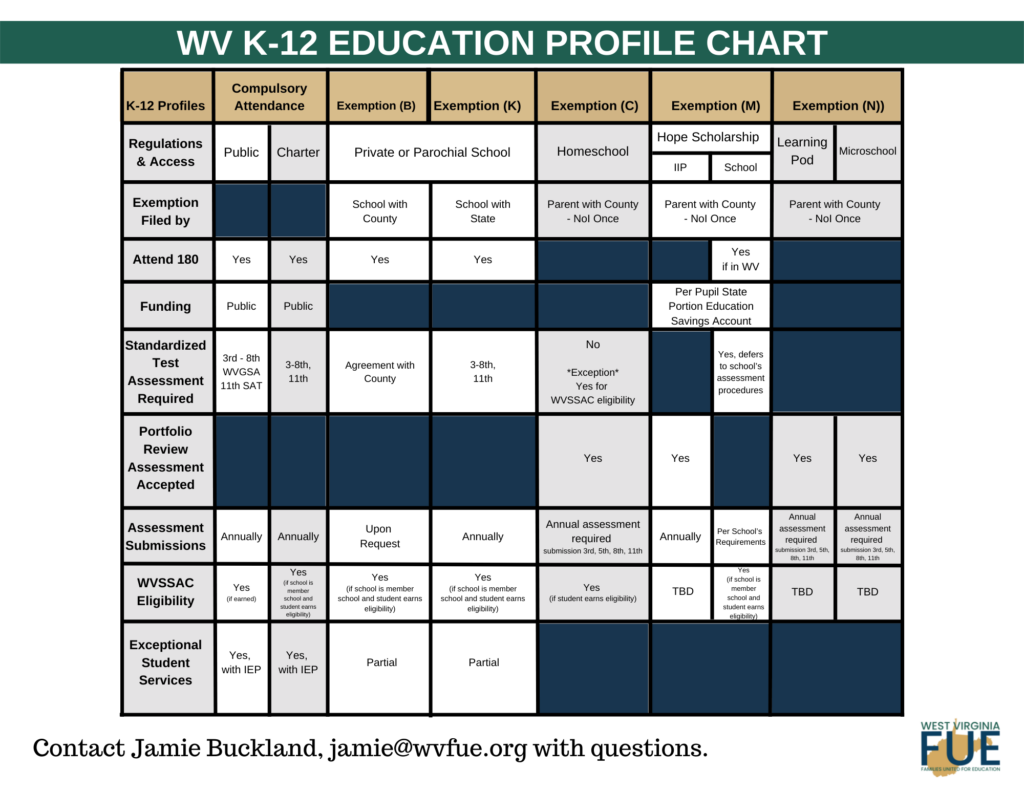 Here's what one mother had to say, "Jamie was incredibly helpful at explaining the different school choices we have under the law and clarifying the differences between a child under the homeschool NOI and Hope Scholarship NOI. Because of this, the application process was easier and I felt confident in my choice and rights. When hope was challenged in court, Jaimie was present and consulted with the attorneys and state officials so that we understood our options after each hearing. When the school accidentally (and incorrectly) enrolled my daughter in kindergarten, she had already created a process to deal with it efficiently. I honestly believe most issues can be headed off by over communicating + kindness and Jamie does this at a high level. As school choice expands in WV, FUE will continue to be a necessity for parents navigating their way through to create the best educational option for their child."
School Resources & Curriculum Navigation Services
Once a family has chosen from the options above, the navigation service changes. If you've chosen a bundled option, private school, microschool, public school, or charter school, the support you need is very minimal. We direct you accordingly and leave you to it.

But, if you've chosen traditional homeschooling or Hope Scholarship's Individualized Instructional Program, then you need to better understand what options you may have to customize your child's education. Can you outsource? What are your options for 3rd grade math? How do you ensure you're compliant with your exemption?

While we want to be supportive and offer free webinars and programming that address the barriers these families face, we mostly serve these families through the FUE Academy led by Program Director Megan Santini. We offer clubs, classes, benchmark assessments, curriculum consultations, and more.

We recently held our very first in-person meetup for families. The families who use Hope Scholarship were able to pay for this field trip using their Hope dollars because we organized it and arranged it as a qualifying expense.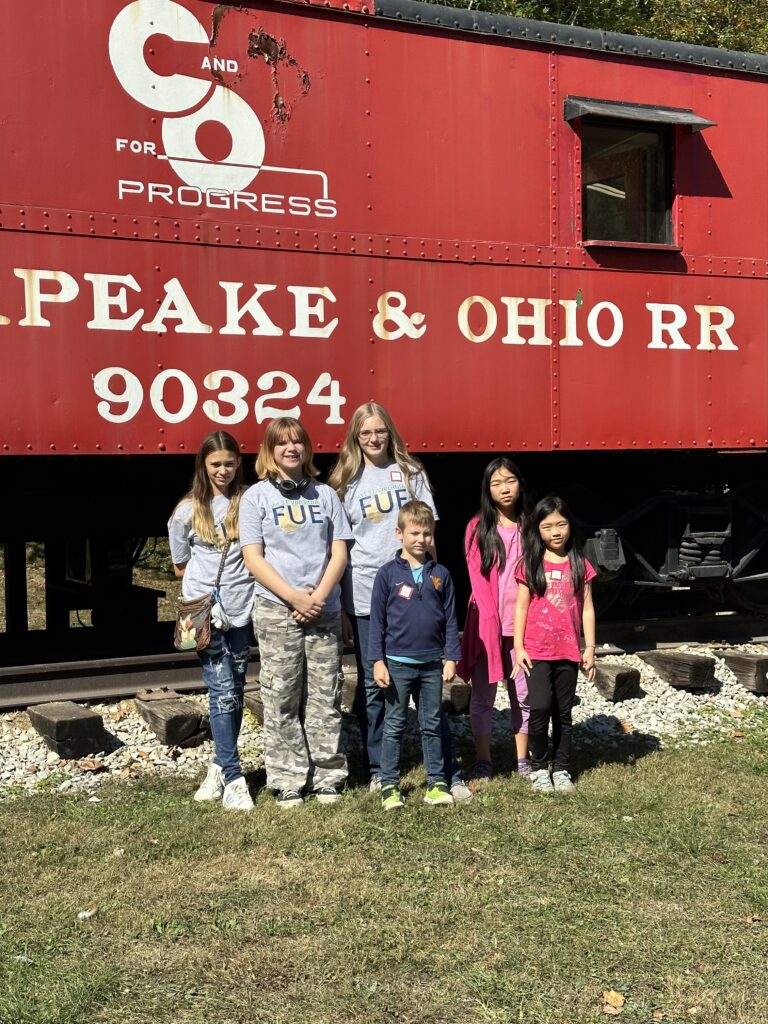 So these two services take care of parents, but what about those who want to serve learners?
School Startup Navigation Services
You want to create a learning environment that provides services to traditional homeschoolers or Hope Scholars in WV, and you're looking for someone who understands what hoops you need to jump through in order to run a compliant program, well, you've come to the right place.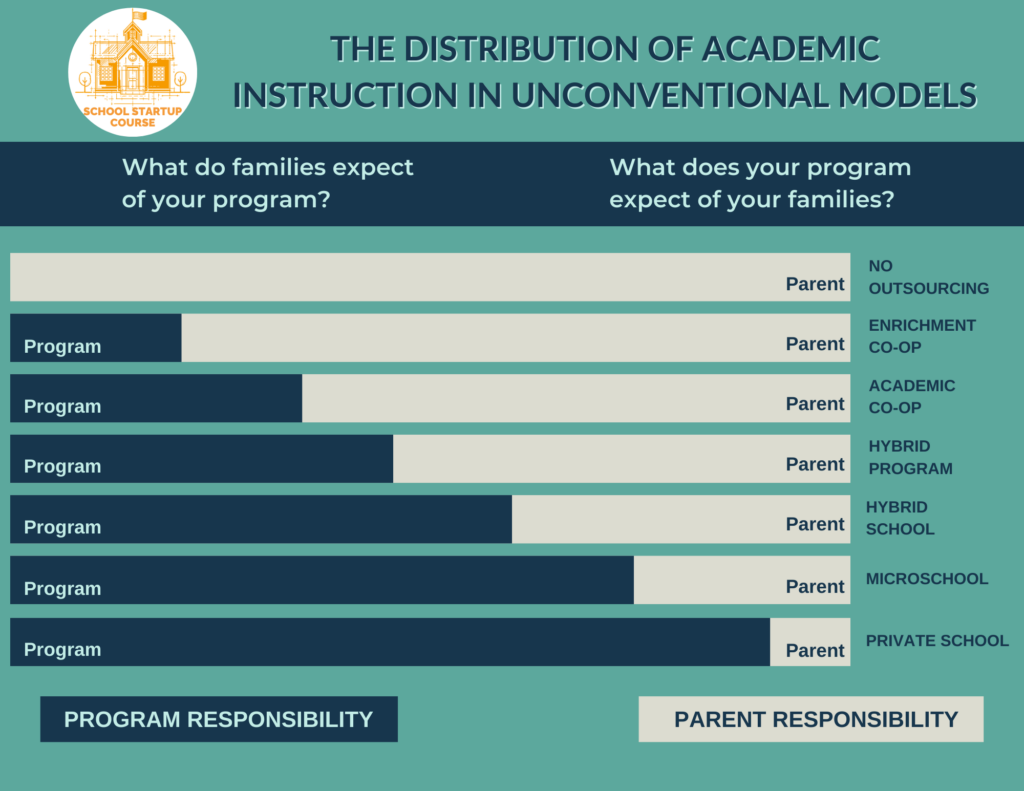 Who do you want to serve? How do you want to serve them? Where will you meet? How can we help you put wheels on your wagon?

Crafting together the nonpublic infrastructure in West Virginia is something I began doing 16 years ago and didn't even realize it. The first program I supported through launching and sustaining was a gym and swim program in partnership with our local YMCA. I learned a lot about volunteers, employees, liabilities, communications, and operations. It wasn't as simple as mobilizing parents to register their kid to learn how to stand in a line and to count each time they completed a jumping jack.

On average, I now hear from 5 entrepreneurs a month who are asking me how hard it is to start a co-op, a hybrid, or a microschool. We offer membership services to organizations or businesses who are already serving learners, and we offer startup consulting to those ready to begin. One of the microschools we supported, City On a Hill Christian Academy, was recently chosen as a quarterfinalist for the coveted Yass Prize.

Director Missy Mohr had this to say about the work we do at the WV FUE, "Because of your organization, people far and wide know your name and know how helpful you've been. My board members know your name and they say, can you ask Jamie this? Can you ask Jamie that? And so we all appreciate and we all are so very grateful and thank you from the bottom of our hearts for helping us get City on A Hill Christian Academy up and running."

We often hear from providers who just want to know how to participate in the Hope Scholarship program, this blog post has become a go-to resource for these providers to better understand their next steps.
Navigation Services for Implementation in Other States
Has your state expanded school choice this year?

Who is helping parents access their access? Who is helping providers navigate the hoops they need to jump through to participate?

I believe services like these will be essential to the expansion and implementation of choice programs across the country. Parents and providers are continually asking 2 basic questions, what can I do and what must I do. As the future of education continues to evolve, the movement must invest in local experts, equipping them with the infrastructure needed to be quality navigators who can answer those 2 questions accurately.

These are conversations we want to explore here at Jamie Buckland Consulting and especially through K-12 Policy Alliance for Parents. Have you signed up? You can join us for bi-weekly conversations where we discuss the on-the-ground work that ensures policy victories aren't empty celebrations.